The fastest and most powerful 911 of all time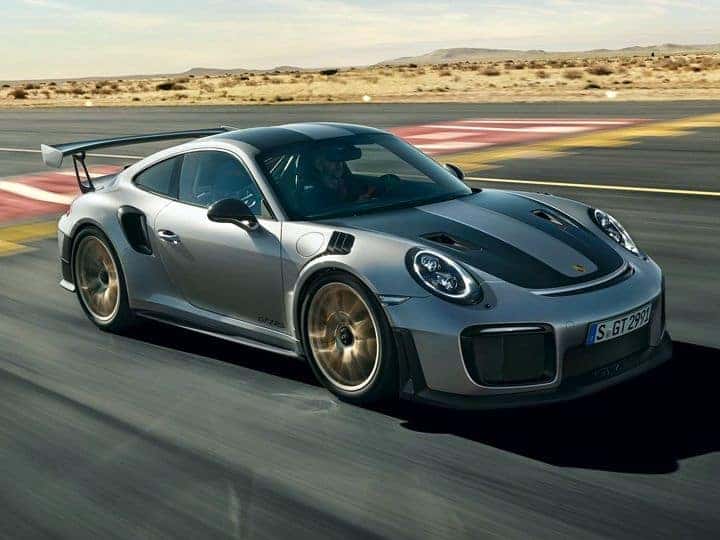 The 2018 Porsche 911 GT2 RS has a mission of ultimate performance. Porsche's Motorsport division has developed the fastest and most powerful street legal 911 of all time.
Weighing 3,241 pounds with a full tank of fuel, the 700 horsepower twin-turbo flat-six engine propels the two-seater from 0 to 60 mph in 2.7 seconds. The GT2 RS accelerates to 124 mph (200 km/h) from 0 in 8.3 seconds, completes the quarter mile in 10.5 seconds, continues on to 186 mph (300 km/h) in 22.1 seconds and reaches a top track speed of 211 mph.
Large air intakes and outlets as well as the dominant rear wing underscore the fact that aerodynamics played a key role in shaping the design. The large wheels and tires provide superior grip. Measuring 265/35 ZR 20 at the front and 325/30 ZR 21 at the rear, they are the widest tires that Porsche currently mounts on the 911. Multiple elements made of carbon fiber showcase the dedication to lightweight construction.
Performance can always be enhanced further. To this end, Porsche offers the Weissach Package, which saves 40 pounds of weight. It consists of multiple components made of carbon fiber and titanium. When equipped with the Weissach Package, the roof as well as the sway bars and tie-rod end links are made of carbon fiber. Magnesium wheels are also part of the package, reducing weight as well as unsprung mass for even better driving dynamics.