New flagship Panamera powertrain inspired by the 918 Spyder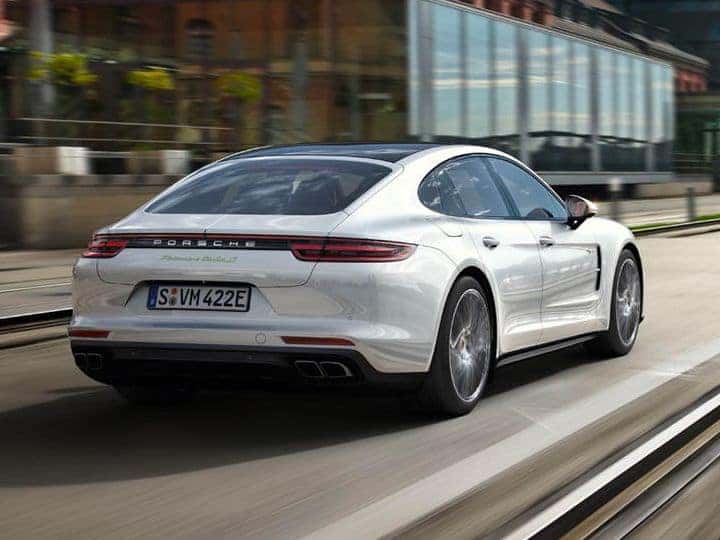 With an unprecedented combination of performance, comfort and efficiency, the new 680 horsepower Panamera Turbo S E-Hybrid highlights the importance of electromobility at Porsche. For the first time, the Stuttgart-based sports car manufacturer has made a plug-in hybrid the top model in a model line.
The Panamera Turbo S E-Hybrid – capable of top speeds of up 192 mph (310 km/h) – is powered by a 136-horsepower electric motor and a twin-turbo V8 creating 550 horsepower. A key characteristic of the Panamera Turbo S E-Hybrid is its superb power delivery across engine speed ranges. Peak torque of 626 lb-ft. is available just above idle at 1,400 rpm, and remains constant up to 5,500 rpm. The electric motor and V8 engine take the Porsche to 60 mph in 3.2 seconds, or 3.3 seconds in the extended wheelbase Executive model. The boost strategy was developed directly from the system used in the 918 Spyder super sports car.
The electric drive not only delivers exceptional energy efficiency, but also additional thrust. The car's electric range of up to 31 miles (50 kilometers) provides for emission-free local driving. This exceptional performance comes coupled with outstanding efficiency.
The electric motor in the hybrid model is supplied with energy via a liquid-cooled lithium-ion battery with an energy capacity of 14.1 kWh. The high-voltage battery integrated in the rear is fully charged in less than six hours at 10 A via a 230-V connection.