Porsche Traction Management: All-wheel drive gets sporty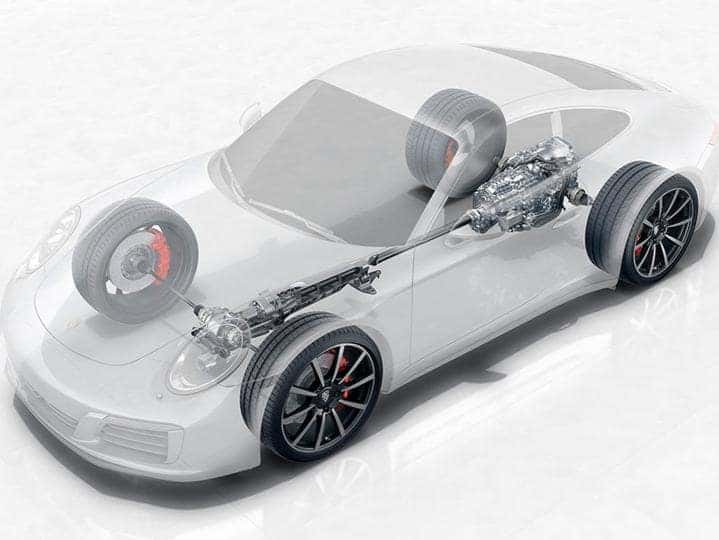 You might not know that all-wheel drive is actually a Porsche innovation. Ferdinand Porsche first invented it in 1900, and Porsche engineers have been refining the concept for the last 118 years.
The latest generation of the system is a feature of the 911 Carrera 4, 911 Targa 4 and 911 Turbo, the Cayenne and the Macan, as well as most Panamera models – in each case tailored and tuned to the specific requirements.
The principle philosophy for any Porsche with active PTM is the same: Enhanced driving dynamics, improved driving safety, increased traction for an even sportier driving experience. This is why Porsche developed its own all-wheel-drive system, which has long been the benchmark in terms of speed, compactness and intelligence.
It distributes drive torque between the front and rear axles actively and very quickly. Permanent monitoring of driving status means PTM can be actively pre-set to respond to different driving situations: For example, sensors continuously monitor the speeds of all four wheels, the longitudinal and lateral acceleration of the vehicle, as well as the steering angle.
By evaluating all sensor data, it is possible to adjust the distribution of propulsion force to the front axle as quickly and effectively as possible. For example, if the rear wheels are at risk of spinning when accelerating, more propulsion force is transmitted forwards. The advantage of PTM is most evident in wet and snowy conditions: This is where the acceleration capacity of a Porsche with PTM is simply stunning.