The New 2019 Porsche Macan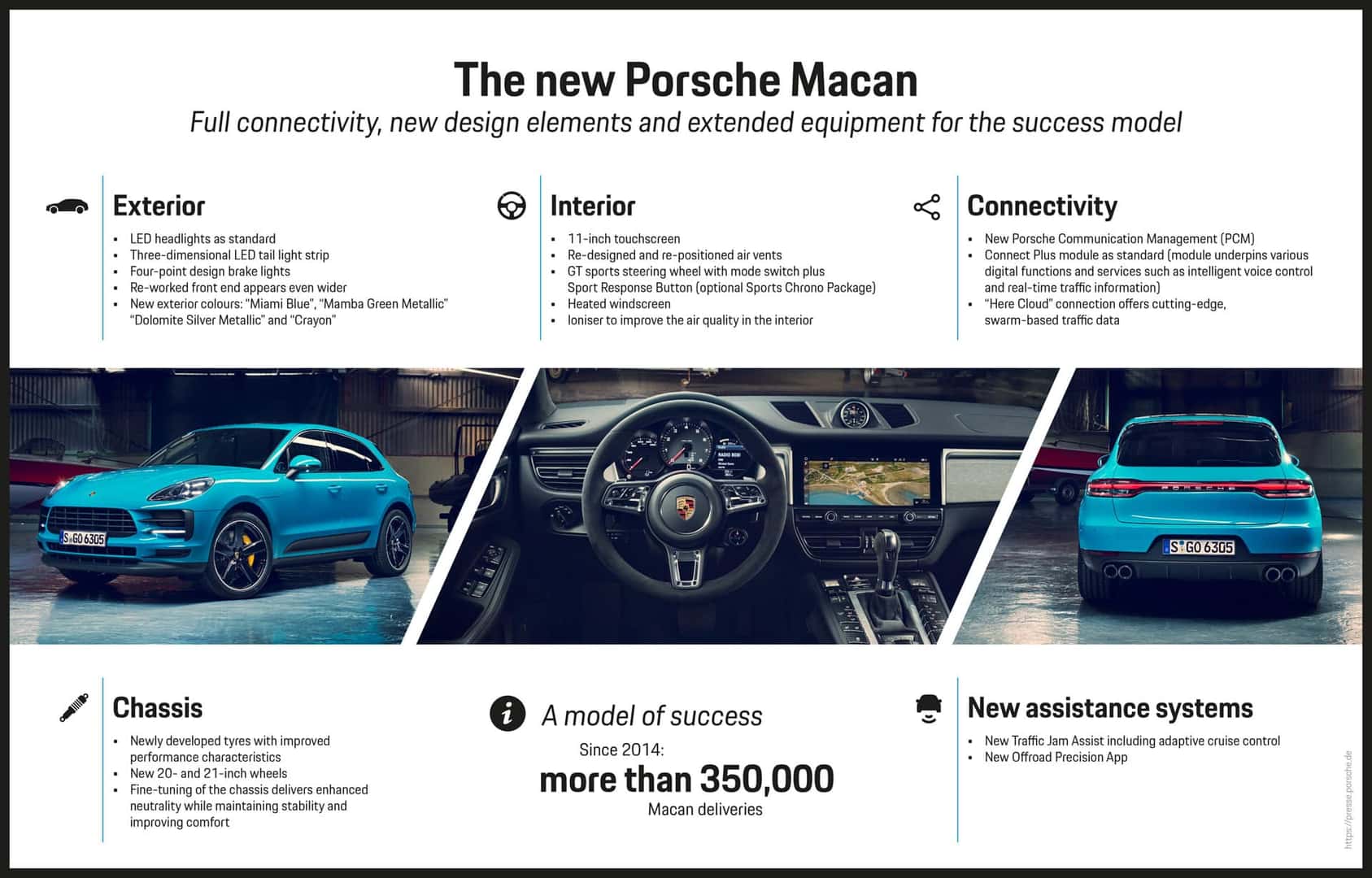 The Porsche Macan is back and better than it's predecessor… For the 2019 Model Year, Porsche has upgraded the Macan in many ways. Though staying true to their heritage, Porsche has made some exterior design changes to the new model. The obvious and most extreme being the sleek singular taillight stretching across the rear cargo hatch, resembling that of the new Porsche Panamera, enhanced by the new four-point brake lights, both functionally and visually.
The broad shoulders above its rear wheels are reminiscent of the 911. And a further visual demonstration of the roadhugging nature of the new Macan.
Its flank is also typically Porsche. From this angle, every muscle appears to be energized – like a predator ready to pounce. Its roof line slopes to the rear just like a coupé, thereby creating a characteristic sports car contour with high aerodynamic quality. Our designers call this the Porsche flyline.
A cool touch to the new design is the addition of more exotic exterior paint colors as shown in the photos above, Miami Blue, famously know to be a hot color on the Targa and other 911 models. Also included in the line up is Mamba Green Metallic, Dolomite Silver Metallic, Crayon.
The interior provides a big, 11-inch HD touchscreen with the redesigned air vents being relocated underneath it. This provides a  crystal clear display of real-time traffic information and traffic data.
There are many options that are new for the Macan in general. The GT sports steering wheel option, found only in the 911 before this time, has become an available option. Traffic Jam Assist as part of the adaptive cruise control system partially operates braking, acceleration, and steering assist in slow moving traffic.
The standard online navigation system ensures that you arrive at your next adventure even more quickly. Connect Plus assists you with Real-time Traffic Information and online map updates. The Porsche Connect app allows you to determine your preferred destination and send it to your Macan – while looking for an empty parking space.
What else do you need for your journey? Your own sound track, of course: with the music streaming function of the Porsche Connect app. 
Your ears are also in for a treat: the optional sports exhaust system makes the typical Porsche sound appear even more powerful. Apropos the audio experience: the BOSE® Surround Sound System and Burmester® High-End Surround Sound System are available as options for the Macan models.
To be able to breathe freely while enjoying the experience, three-zone automatic climate control is fitted as standard. The optional ioniser is a new addition – for improved air quality that enhances your wellbeing.
The 2019 Porsche Macan: the compact SUV that inextricably combines sportiness, design and everyday practicality.
For more questions, or to pre-order the 2019 Porsche Macan with Ray Catena Porsche, please feel out the form below.